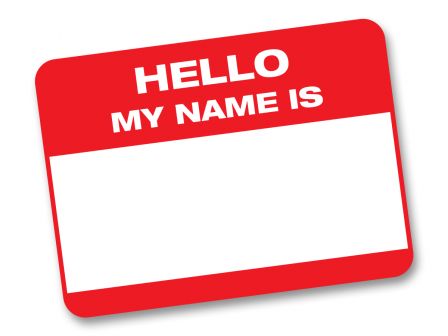 My friends and I have had a running gag since senior year of college, every so often suggesting names for the rock band we never got around to forming. This article from A.V. Club renewed the conversation last December and revived another round, still nothing topping our default choice — Insipid Ostrich.
Two memorable songs from the late Jim Croce and the late Johnny Cash underscore the importance of selecting the proper moniker.

Not surprisingly, ad agency naming bears more than a passing resemblance to the rock world, which would help to explain some of the memorable names featured in this Adweek story. Here are the 40 strangest names in the global ad business; the article gives the background on each.
40. Taxi
39. Odopod
38. Bonehook
37. Big Spaceship
36. Droga5
35. The Bank
34. Razorfish
33, Naked
32, Wikreate
31. Steak
30. Creature
29. Lean Mean Fighting Machine
28. High Heels & Bananas
27. Blammo Worldwide
26. Omobono
25. The Chopping Block
24. Captains of Industry
23. The Glue Society
22. Farm
21. Adam & Eve
20. Elephants & Ants
19. Victors & Spoils
18. David & Goliath
17. For Office Use Only
16. Walrus
15. Mother
14. Mistress
13. G&M Plumbing
12. Moosylvania
11. The Barbarian Group
10. Omelet
9. Big Kitty Labs
8. Hello Viking
7. High Wide & Handsome
6. Barton F. Graf 9000
5. Kids Love Jetlag
4, Pocket Hercules
3.StrawberryFrog
2. 72andsunny
1. Wexley School for Girls
In the past week, I've taken calls from two creative production houses whose catchy names were carefully chosen to set them apart — Fat Chimp Studios and The Nerdery.
Yesterday, I was reading an industry story on The Pitch and saw a banner for Gyro, the edgiest, buzz-worthiest branding/advertising agency to ever call Philadelphia home. When I clicked through, I realized it was not Gyro Worldwide, but another agency now using the name. A Google search for Gyro Worldwide led me to Quaker City Mercantile, a surprisingly mellow but still memorable (by comparison) rebranding.
The traditional agency nomenclature direction is a lot like the method followed by the legal profession. The name(s) on the door belong to the principals: Ogilvy and Mather; Doyle Dane Bernbach; Della Femina Travisano & Partners; even the fictional Mad Men shop, Sterling Cooper Draper Pryce.
That's the model followed and continued by Newton Associates. Yes, Virginia, there was and still is a Jon Newton. We continue to collaborate, lunch and kibitz with Jon regularly. In 2003, when Gerry Giambattista and I purchased the agency as long-time employees from Jon and his account service business partner, Harry Streamer, we made a conscious decision to retain the name, carry the torch, and honor the high standards set by Newton Associates. We've never regretted our name decision and we're proud to soon be coming up on marking our first decade.
Tags: Advertising, agency names, Branding, names
Get e-mail alerts of all our new posts.