Some stories are just too good not to follow and share. This one has two parts. The first is about badvertising — a creative concept that should have been killed by the agency before it ever reached the client. The second is about social media being wildly unpredictable and entertaining.
Adweek's Ad Freak does an admirable job of presenting both accounts, going so far as to question whether the first one is worst campaign of the year. The badvertising is for the product of a new start-up company called Energy Sheets. You probably remember a similar product —breath freshening strips that you drop on your tongue. The effect is a hit of super-concentrated mouthwash triggered as the strip instantly dissolves. Presumably, Energy Sheets delivers the equivalent of a 5-hour energy shot via a similar quick hit. Incredibly, LeBron James is a key investor.
The entire campaign relies upon a dumb double entendre, "I Take A Sheet In The ______," to include the pool (Caddyshack flashback anyone?), the library, and in an ad featuring the hot rapper Pitbull, on the stage. Even if you appreciate bathroom humor, as Adweek notes, do you want to promote a product that you put in your mouth with a headline that "references defecation?"  Can't wait for the "Who gives a sheet?" gift cards.
On such dubious footing, it makes perfect sense that Energy Sheets would work with retailers like Wal-Mart to leverage the popularity of Pitbull via a social-media based contest. Like your favorite Wal-Mart store on Facebook and win a visit to that store by Pitbull. Sounds okay in theory, but the wild world of social media always has room for the unpredictable and unexpected. Enter one David Thorpe, a writer for the Boston Phoenix, who decided to have a little fun. He and a friend researched the most remote Wal-Mart store in the chain store's chain and launched their own social media campaign to send Pitbull to Kodiak, Alaska, reachable only by plane or ferry. Already at 60,000 likes and climbing fast, the Kodiak Wal-Mart is looking more and more like the destination for Pitbull, who calls himself Mr. Worldwide. If that happens, Pitbull will have to reorient himself from hot, steamy Latin rhythm dance clubs to arctic landscapes. However, in the process, he may be able to finally answer the question, "Does a polar bear sheet in the woods?"
Update: Wal-Mart has a winner. Looks like Pitbull had better start packing his parka and lined boots for Kodiak, AK. As they used to say in the old Shake and Bake commercials, "And I helped."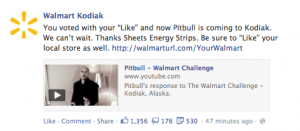 Tags: Alaska, Badvertising, Energy Sheets, Facebook, Kodiak, LeBron James, Pitbull, Social Media, Wal-Mart
Get e-mail alerts of all our new posts.