Over the past two days, I've spent a lot of time on the Schuylkill Expressway (I-76), which naturally makes me think about parking. Thanks to its legendary jams, the Schuylkill is purported to be the inspiration for The Soul Survivors' regional hit, "Expressway to Your Heart." Yesterday's standstill on my return trip from the city was due to a regatta and a lot of rerouting along the river drives. Tonight, after picking up my son from the Bolt bus, I got stuck in traffic leaving the Sixers and Phils games.
http://www.youtube.com/watch?v=GQpTEaPFHXQ
However, it was all worth it because on my way into the city this evening, I passed one of the all-time great advertising icons — the Oscar Mayer Weinermobile. Definitely a sight that commands your attention, even in the dark. Guess I can cross that one off my bucket list.
Vehicles of all sorts have been on my mind ever since Thursday when I attended a seminar put on by one of our clients, Time and Parking Controls, at the National Constitution Center. Spend a day with these guys, the manufacturers they represent, and their clients, and you realize how critical parking solutions are — to municipalities, to hospitals, to private city lots, to companies with secured employee facilities. We all drive. We all need a place to leave our cars, day and night.
The Constitution Center has its own underground lot off Race Street. When I came up on the elevator to the lobby, there was a car parked IN the lobby. It was the classic Corvette that Bruce Springsteen purchased when he could first afford one following sales of Born To Run. The Bruce exhibit, "From Asbury Park to the Promised Land," is featured at the Constitution Center till September. In the words of a certain California governor, "I'll be back."
As it turns out, the Constitution Center, besides being a great place to learn about the namesake document, and its amendments, that have served our nation well since colonial days, is also a terrific site for hosting an educational event. Time and Parking Controls lined up two excellent speakers to address very different concerns under the banner of "Parking Operations – Internal and External Threats That Affect Your Business."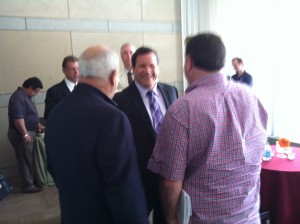 Time and Parking Controls is one of many VARs of Lenel, the leading provider of access control and security software. Mick McDaniel provided an excellent overview of the United Technologies owned industry giant, which works with just about every major government agency and large corporation you can think of. Its impressive suite of solutions puts tremendous monitoring and control capabilities in the hands of key security personnel (and always just two mouse clicks away). Access control points and CCTV cameras, coupled with a variety of enterprise databases, enable amazing response time and instant decision-making, with parking lots being a critical first line of activity and defense.
Following Mick to the podium was Larry Donoghue, a member of the Parking Hall of Fame and a one-man consulting dynamo for parking lot operators with automated revenue control equipment who need to detect fraud and prevent it. Larry's 65-year career puts him at a very youthful 93 years old. This man came from Chicago, loaded with case histories that stunned me and other audience members with the ingenuity that parking lot patrons and parking lot employees employ in figuring ways to cheat business owners out of recurring revenue. There is big money to be made in parking. And also big money to be lost in parking. Larry has made a career identifying the ingenious ways in which people game systems and line their own pockets.
Capping off the seminar was a visit from a Philadelphia mystery guest whose knowledge of parking seems stuck in the horse-drawn carriage  era, although his kite and key experiments are finally helping spur development of electric-powered, rechargeable cars. If you ever need to hire Ben Franklin to add colonial authenticity and wit to your next event, he is a personal friend of this marketing agency and he knows how to party like it is 1776.
Last night gave me plenty of time to ruminate on the importance of having a good, safe place to leave your vehicle whenever you venture into the city. Parking on the Schuylkill Expressway has that effect on people .
Tags: access control, Bruce Springsteen, fraud prevention, Lenel, National Constitution Center, parking, Schuylkill Expressway, security, Time and Parking Controls