Pardon the pun on the '70s America song title. Perhaps the ugly nocturnal muskrat is the only remaining animal or anthropomorphic character still unclaimed by a corporation or sports team as a branding symbol. Mascots have been advertising mainstays since advertising has been a mainstay.
Mascots can create a warm and fuzzy feeling between the brand and the customer. Kids are especially susceptible. I know because it was an early age fascination with one Speedy Alka-Seltzer that sparked my interest in an advertising career and indigestion relief.
It just seems like America's love affair with make-believe beings that embody brand values has no end.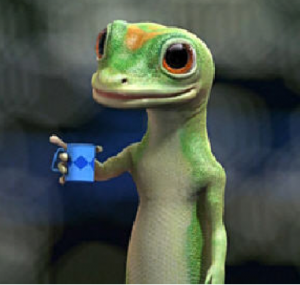 Can you have too many mascots? Ask GEICO. They developed perhaps the most successful mascot of all time in the GEICO Gecko, thanks to clever nameplay and the ideal blend of an engaging accent and light humor. But too much of a good thing is never a good thing. Layering on additional characters and ad campaigns, from too-sensitive cavemen to a thrill-seeking baby pig has helped to overexpose the GEICO brand.
Great mascot moments. There is really no end to the glory days of mascots throughout the course of advertising history. From the Jolly Green Giant, to Mr. Clean, to the Stay-Puft marshmallow man, to Mayor McCheese, to Tony the Tiger, even to the Chuckwagon wagon train.
Not-so-great mascot moments.  Occasionally, what seems like a good idea, isn't. Like using Joe Camel to skew tobacco demographics younger. Or staging a race between meat product costumes at a Milwaukee Brewers baseball game, leading one player to hit one of the sausage characters in the head with his bat. However, worst of all was when Gilbert Gottfried, comic and voiceover actor extraordinaire, whose one-of-a-kind sound won him the gig as the Aflac duck. However, a few tweets in bad taste about the horrific natural disasters in Japan (unknown to Gottfried as a major Aflac market) led to his prompt dismissal.
Mascot rivalries. Locally, we are blessed with the most memorable, well-loved mascot in all of sports — the Philly Phanatic. At least until this year. Forbes magazine recently ran a poll and determined that the Phanatic is now number two. Edging him out of the top spot as a fan favorite was Mr. Met. Hilariously, the Phanatic took to Facebook to congratulate his NL East chum and to warn him to "not let the honor go to his head."
Worst mascot ever. Tossup. I know that Burger King got some clever, edgy mileage out of creating a rubberized suit version of the King of Burgers, but there was a creepy weird vibe associated with what amounted to this full-size, silent action figure.
Meanwhile, I hope that the owners of MegaBus never decide to create a live action mascot suit of the cartoon driver who adorns the back of every bus. He resembles a Playskool Weeble and his rotundity looks like it might adversely affect his driving record.